Product Description
Nature's Pure Therapeutic Grade Essential Oil (NPTG)™
~100% Pure, Unadulterated (undiluted/unchanged)  Essential Oil
Size: 15 ml.
Botanical Name: Eucalyptus radiata
Location: Australia
Extraction Process: Steam Distilled
Part of Plant Used: Leaf
Essential Oil Description: Eucalyptus Radiata Essential Oil has a crisp, clean, camphoraceous aroma with a hint of citrus and floral scents. Eucalyptus is a highly prized essential oil used by aromatherapists world-wide.
Cautions: Eucalyptus oil should always be used with a carrier oil in dilution. It should be avoided during pregnancy.Avoid using with those who have high blood pressure or those with epilepsy. It should never be taken internally.
GC/MS Lot#: Eucalyptus-0103
GC/MS Lot#: Eucalyptus-0102
GC/MS Lot#: Eucalyptus-0101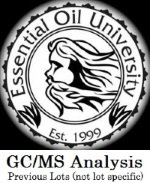 Disclaimer: These statements and products have not been evaluated by United States Food and Drug Administration and are not approved to diagnose, treat, cure, or prevent disease. The information given is not intended as a substitute for advice from your physician or other health care professional.