Description
100% Pure Therapeutic Essential Oils
Unadulterated (undiluted/unchanged)
Size: 15 ml.
Botanical Name: Foeniculum vulgare dulce
Location: Hungary
Extraction Process: Steam Distilled
Part of the Plant Used: Seeds
Description: Health benefits include: digestive support, respiratory support, liver function, circulation and metabolism. Fennel Essential Oil is also antispasmodic, calming, and grounding.
Fennel is native to southern Europe and the Mediterranean. Reaching 7 feet tall, it has yellow feather like flowers. Bitter Fennel was called fenkle in the Middle Ages, and was believed to give one courage, strength, and a long life–as well as guard against demons.
Directions: Add to your diffuser for aromatherapy benefits. Recommended to properly blend with a carrier oil prior to topical applications.
Cautions: Possible skin sensitivity. Keep out of reach of children. Do not use during pregnancy, while breastfeeding, or on infants and small children.
GC/MS Lot#: Fennel-0103
GC/MS Lot#: Fennel-0102
GC/MS Lot#: Fennel-0101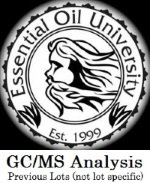 Disclaimer: These statements and products have not been evaluated by United States Food and Drug Administration and are not approved to diagnose, treat, cure, or prevent disease. The information given is not intended as a substitute for advice from your physician or other health care professional.