Description
100% Pure Therapeutic Marjoram Essential Oil
Unadulterated (undiluted/unchanged)
Botanical Name: Origanum majorana
Location: Hungary
Extraction Process: Steam Distilled
Part of Plant Used: Leaves and Flowers
Description: Marjoram Essential Oil (Sweet Marjoram) has a sweet, herbaceous aroma. This sweet herb was used for centuries in Europe as a sign of youth and romantic love. Greeks would weave the Marjoram leaves into wreathes and they would be worn at weddings being refereed to as "joy of the mountains." This herb was also used to brew beer before hops where discovered, and is still used as a flavoring in the drink hippocras. The essential oil of the Marjoram plant is highly sought after for its soothing effects. Many people have used Marjoram Essential Oil to help with muscle aches and pains.
Blends Well With: Carrot Seed, Coriander, Tea Tree, Lemongrass, Dill Weed, Sweet Orange
Product Brochure: Marjoram Product Fact Sheet
Directions: Recommended to properly blend in a carrier oil prior to topical applications. Patch test before use in case of sensitivity.
Cautions: Possible skin sensitivity. Keep out of reach of children. If pregnant or under a doctor's care, consult your physician.
EOU GC/MS Lot#: Marjoram-0106
EOU GC/MS Lot#: Marjoram-0105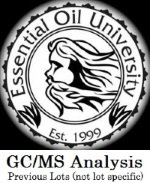 Disclaimer: These statements and products have not been evaluated by United States Food and Drug Administration and are not approved to diagnose, treat, cure, or prevent disease. The information given is not intended as a substitute for advice from your physician or other health care professional.