Description
100% Pure Therapeutic Essential Oil
Unadulterated (undiluted/unchanged)
Size: 15 ml | 5 ml
Botanical Name: Cymbopogon flexuosus
Location: India
Extraction Process: Steam Distilled
Part of the Plant Used: Leaves
Description: Lemongrass is among the top ten essential oils in distribution around in the world. It's most well known and used in China and India, but its popularity in the United States is on the rise. Lemongrass is often used for muscle and joint pain–especially when caused by overexertion. It has also been used for reducing fevers, increasing milk production in nursing mothers, keeping insects away, reducing stress, decreasing headaches, calming stomach pains, helping with vertigo, increasing urination, reducing fungal infections, decreasing free radicals (high antioxidant), and boosting general health. Lemongrass is a must in any essential oil cabinet.
Directions: Add to your diffuser for aromatherapy benefits. Recommended to properly blend with a carrier oil prior to topical applications.
Cautions: Possible skin sensitivity. Keep out of reach of children. If pregnant or under a doctor's care, consult your physician.
EOU GC/MS Lot#: Lemongrass-0104
GC/MS Lot#: Lemongrass-0103
GC/MS Lot#: Lemongrass-0102
GC/MS Lot#: Lemongrass-0101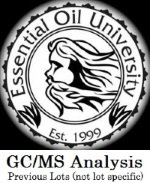 Disclaimer: These statements and products have not been evaluated by United States Food and Drug Administration and are not approved to diagnose, treat, cure, or prevent disease. The information given is not intended as a substitute for advice from your physician or other health care professional.