Description
100% Pure Therapeutic Essential Oils
Unadulterated (undiluted/unchanged)
Size: 15 ml.
Botanical Name: Coriandrum sativum
Extraction Process: Steam Distilled
Part of Plant Used: Seeds
Description: Coriander essential oil has been used for centuries for its natural medicinal properties. Natural healers throughout Egypt, Mediterranean and Asia has used the coriander plant, seeds and essential oil for digestive, antispasmodic, analgesic, fungicidal, depurative and uplifting properties. It also has been used for vomiting and endocrinal issues.
Coriander is known as the "Miracle Seed" because of its numerous natural medicinal properties. Coriander Seed Essential Oil is very well-known for its spicy, fruity, sweet and woody smell. Every family should add coriander to their natural first aid kit.
Directions: Add to your diffuser for aromatherapy benefits. Recommended to properly blend with a carrier oil prior to topical applications.
Cautions: Possible skin sensitivity. Keep out of reach of children. If pregnant or under a doctor's care, consult your physician.
GC/MS Lot#: Coriander-0103
GC/MS Lot#: Coriander-0102
GC/MS Lot#: Coriander-0101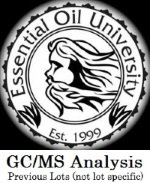 Disclaimer: These statements and products have not been evaluated by United States Food and Drug Administration and are not approved to diagnose, treat, cure, or prevent disease. The information given is not intended as a substitute for advice from your physician or other health care professional.