Description
100% Pure Therapeutic Essential Oil
Unadulterated (undiluted/unchanged)
Size: 15 ml | 5 ml
Botanical Name: Citrus paradisi
Extraction Process: Cold pressed
Part of the Plant Used: Peel
The grapefruit is native to Barbados. It was created accidentally when sweet orange was crossed with pomelo. When originally discovered, it was named the "forbidden fruit".
Grapefruit is most well-known for its weight loss aid. It is a natural appetite suppressant with uplifting qualities. It has been reputed to alleviate sugar cravings, increases fat burning, decreases cellulite, has antioxidant qualities, and is said to be anti-carcinogenic. It is also used often in household cleaning products and cosmetics.
Add several drops to your diffuser to ease moodiness and mental fatigue. Blend with a carrier oil and apply to your abdomen for digestive and weight loss support.
Cautions: Avoid sunlight or UV rays for up to 12 hours after applying. Use caution when using during pregnancy. As with any essential oil, use internally only under the direction of a Medical or Naturopathic physician.
GC/MS Lot#: Grapefruit-0105
GC/MS Lot#: Grapefruit-0104
GC/MS Lot#: Grapefruit-0103
GC/MS Lot#: Grapefruit-0102
GC/MS Lot#: Grapefruit-0101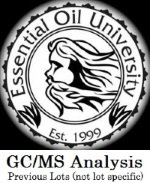 Disclaimer: These statements and products have not been evaluated by United States Food and Drug Administration and are not approved to diagnose, treat, cure, or prevent disease. The information given is not intended as a substitute for advice from your physician or other health care professional.