Description
100% Pure Therapeutic Anise Star Essential Oil
Unadulterated (undiluted/unchanged)
Size: 15 ml | 5ml
Botanical Name: Illicium verum
Location: China
Extraction Process: Steam Distilled
Part of the Plant Used: Seeds
Description: In Chinese medicine Anise Star is used to help replenish Qi (chi), and can be used in Aromatherapy Massage for this purpose. Because of this, many can feel the relief of pain and stiffness in the muscles and joints. It can help restore your energy or Qi when feeling both physically and mentally exhausted or fatigued. When you give your body what it needs to restore and replenish itself, the results are increased energy as well as the desire or will to do more because your strength comes from within.
Anise Star has a strong top note, with a powerful and black licorice-like scent. Traditionally, herbalists have used it for centuries in such forms as teas for helping with digestive discomfort, colic, coughs and influenza and other respiratory ailments. Expectorant, secretagogue, antispasmodic, warming, drying, calming, stabilizing, and restoring. It is commonly used for stomach and digestive complaints, indigestion, cough, colds/flu, menstrual cramps, pain, exhaustion and overindulgence.
Anise Star is one of the few essential oils that can crystallize in cool temperatures. Return it to a liquid state by placing the bottle in warm water and shaking it if necessary. Some companies add solvents to this oil to prevent crystallization, but we obviously don't do this as we keep it in its pure and natural state.
Directions: Recommended to properly blend in a carrier oil no greater than 1.75% dilution prior to topical applications.
Cautions: Possible skin sensitivity. Keep out of reach of children. Do not use if pregnant, breastfeeding, have endometriosis, or on children under 5 years old.
EOU GC/MS Lot#: Anise-star-0103
GC/MS Lot#: Anise-Star-0102
GC/MS Lot#: Anise-Star-0101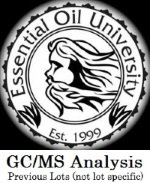 Disclaimer: These statements and products have not been evaluated by United States Food and Drug Administration and are not approved to diagnose, treat, cure, or prevent disease. The information given is not intended as a substitute for advice from your physician or other health care professional.