Description
100% Pure Therapeutic Clove Essential Oils
Unadulterated (undiluted/unchanged)
Size: 15 ml | 5ml
Botanical Name: Syzygium aromaticum
Extraction Process: Steam Distilled
Part of the Plant Used: Buds
Description: The bud of this evergreen, indigenous to Southeast Asia, has a long history as an effective agent for minor pains and aches, particularly dental pain when blended with a carrier oil and applied to the outer jaw. It is widely used in contemporary Ayurvedic and Chinese medicine.
Directions: Add to your diffuser for aromatherapy benefits. Recommended to properly blend with a carrier oil prior to topical applications.
Cautions: Clove Bud Oil should only be used in dilution. It should be avoided during pregnancy. May cause skin irritation in some individuals; a skin test is recommended prior to use.
EOU GC/MS Lot#: Clove-0108
GC/MS Lot#: Clove-0107
GC/MS Lot#: Clove-0106
GC/MS Lot#: Clove-0105
GC/MS Lot#: Clove-0104
GC/MS Lot#: Clove-0103
GC/MS Lot#: Clove-0102
GC/MS Lot#: Clove-0101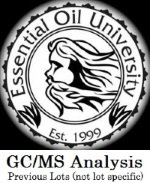 Disclaimer: These statements and products have not been evaluated by United States Food and Drug Administration and are not approved to diagnose, treat, cure, or prevent disease. The information given is not intended as a substitute for advice from your physician or other health care professional.