Product Description
Nature's Pure Therapeutic Grade Essential Oils (NPTG)™
~100% Pure, Unadulterated (undiluted/unchanged)  Essential Oil
Size: 15 ml.
Botanical Name: Vetiveria zizanioides
Location: Haiti
Extraction Process: Steam Distilled
Part of the Plant Used: Root
Description: Vetiver Essential Oil is distilled from the roots of a grass used in Indonesia. It is used in skin care products, aromatherapy and massage therapy, and in perfumery.
Cautions: Blend properly with a carrier oil prior to topical applications.
GC/MS Lot#: Vetiver-0102
GC/MS Lot#: Vetiver-0101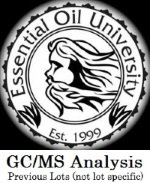 Disclaimer: These statements and products have not been evaluated by United States Food and Drug Administration and are not approved to diagnose, treat, cure, or prevent disease. The information given is not intended as a substitute for advice from your physician or other health care professional.