Description
100% Pure Therapeutic Essential Oil
Unadulterated (undiluted/unchanged)
Size: 15 ml.
Botanical Name: Salvia sclarea
Location: France
Extraction Process: Steam Distilled
Part of the Plant Used: Flowers and Leaves
A member of the plant family Labiatae (Lamiaceae), Clary Sage is originally native to southern Europe. The whole plant is highly aromatic and the flowering stalks are cut in the summer for essential oil extraction. An old French name for the plant is "toute bonne" which means: Good for everything.
Aroma: Musky and nutty fragrance that is powerful and pungent and used widely in perfumery.
Physical & Psychological Benefits:
Feminine/Hormone Balancer: Helps with menstrual cycle irregularities, PMS and related issues, cramps, menopause, dysmenorrhea, hot flashes, night sweats, hormone irritability and imbalance, amenorrhea.
Aphrodisiac – Boosts libido and may improve sexual performance.
Psyche and emotion: Calming, euphoric, great for anger, irritation and mental fatigue, nervous anxiety, insomnia, and depression. Clary Sage can help distance people from their problems and balance emotional states so that they can put a person in touch with their dreams.
Powerful Muscle Relaxant: Helps with aches and pains, arthritis and rheumatism.
Blends Well With: Bergamot, Chamomile, Lavender, Geranium, Rose, Fennel, Frankincense, Vetiver, Ylang Ylang, and Mandarin.
Recipes with Clary Sage
It's Been a Long Day –Diffuser Blend – Relax and wind down. Makes a great Sleep blend too.
• 2 drops Clary Sage
• 2 drops Lavender
• 2 drops Mandarin or Tangerine
A Woman's Balance Bath Soak – Balance female hormones with this amazing blend. Add mix to warm bath water right before getting in. Soak away the tension before bed time.
Mix the following oils in a jar with 1 cup Epsom salts:
• 3 drops Clary Sage
• 2 drops Geranium
• 2 drops Lavender
• 2 drops Bergamot
Directions: Add to your diffuser for aromatherapy benefits. Recommended to properly blend with a carrier oil prior to topical applications.
Cautions: Possible skin sensitivity. Keep out of reach of children. If pregnant or under a doctor's care, consult your physician.
EOU GC/MS Lot#: Clary-Sage-0105
GC/MS Lot#: Clary-Sage-0104
GC/MS Lot#: Clary-Sage-0103
GC/MS Lot#: Clary-Sage-0102
GC/MS Lot#: Clary-Sage-0101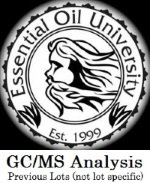 Disclaimer: These statements and products have not been evaluated by United States Food and Drug Administration and are not approved to diagnose, treat, cure, or prevent disease. The information given is not intended as a substitute for advice from your physician or other health care professional.