Product Description
100% Pure Therapeutic Essential Oil
Unadulterated (undiluted/unchanged)
Size: 15 ml.
Botanical Name: Piper nigrum
Location: India
Extraction Process: Steam distilled
Part of the Plant Used: Dried berries
Description: Black Pepper Essential Oil is an excellent all natural antioxidant, which help can help to prevent or delay some types of cell damage and reduce free radicals in the body. Black Pepper is also a wonder massage oil when added to a carrier oil to help with aches and pains, as well as anxiety.
Cautions: As with any essential oil, use internally only under the direction of Medical or Naturopathic physician.
GC/MS Lot#: Pepper-Black-0102
GC/MS Lot#: Pepper-Black-0101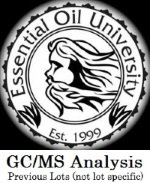 Disclaimer: These statements and products have not been evaluated by United States Food and Drug Administration and are not approved to diagnose, treat, cure, or prevent disease. The information is for informational purposes only and is not intended as a substitute for advice from your physician or other health care professional.