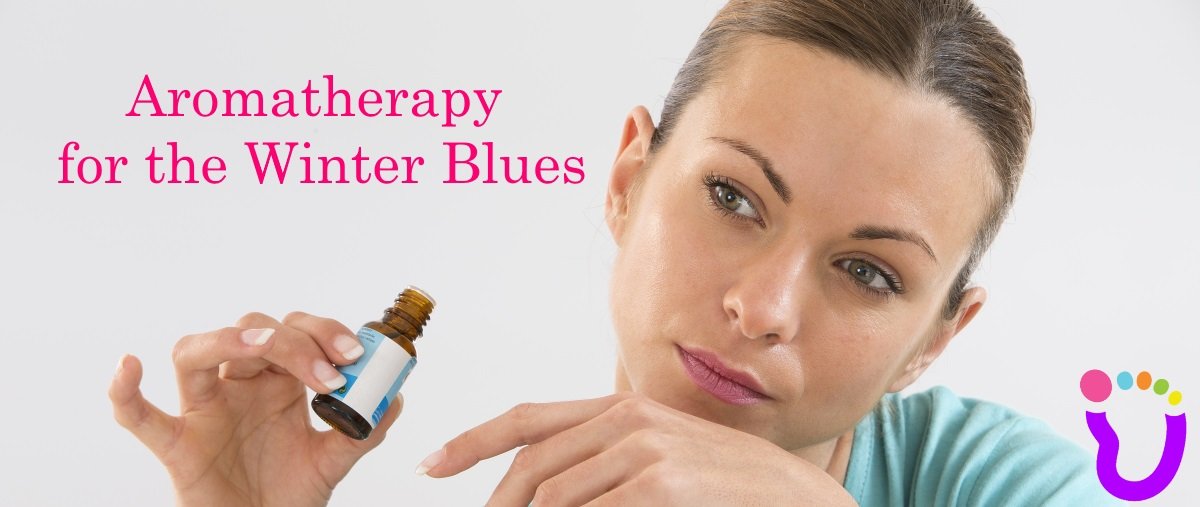 Less sunshine, gray skies, and cold air can lead us to what we call the "winter blues". As the days become shorter with fewer hours of sunlight, some of us begin to feel blue.
To help tackle the winter blues, look for essential oils that are energizing and uplifting as well as those that help balance emotions.
As we have learned previously, essential oils influence the limbic system, the region of our brain responsible for emotional feelings, memories, motivational drives and learning . > https://barefut.com/what-is-aromatherapy 
In a 2013 article, researchers at Xiamen University, China, commented: "Most studies, as well as clinically applied experience, have indicated that various essential oils, such as lavender, lemon and bergamot can help to relieve stress, anxiety, depression and other mood disorders. Most notably, inhalation of essential oils can communicate signals to the olfactory system and stimulate the brain to exert neurotransmitters (e.g.serotonin and dopamine) thereby further regulating mood." 
Bergamot is the citrus oil that has been most widely researched for mood effects in humans. Inhaling Bergamot Essential Oil through diffusion or sprays, has shown significant effects for enhancing the mood. X, Y
Citrus oils such as Bergamot, orange and grapefruit are cheering and uplifting for the emotions and are enjoyed by so many people. Everyone in your home will benefit!
Here are some more essential oils you can start incorporating to banish winter blues in a heartbeat. <3
Bergamot: lift your mood and address anxiety, depression and tension.
Grapefruit: Energetically cleansing and uplifting. Promotes happy, outward energy.
Orange: Enhances the mood by bringing joyfulness and cheerfulness. Relaxant.
Lavender: Calms the mind, and promotes tranquility and peacefulness.
Ylang Ylang: Provides a gentle euphoria that relaxes and uplifts emotions. Opens the heart, promotes peace and inner trust.
Clary Sage: soothes tense nerves while easing stress, worry and sadness. Promotes a positive outlook when feeling stressed and helps clear unsettled feelings.
Cedar Wood: balance the emotions and sooth the lungs during periods of stress and discomfort during the challenging winter months.
Eucalyptus: Emotional balance, centering, opens the breath.
Eternity Blends-
These blends are formulated to lift the spirits, bring feelings of happiness and fight feelings of sadness or melancholy. The following 2 Eternity Blends are perfect for this time of year!
Uplifting Citrus Eternity Blend
How to use Aromatherapy to fight the winter blues…
Diffuser- Create the mood by changing the atmosphere!
Simply add 5-6 drops to your Aromatherapy Diffuser and enjoy the aromas as they release into the air. You may combine a few drops of oils mentioned above to your liking. I keep a diffuser in every room of my home as well as my office.
Aromatherapy Mist-
In a 4oz aluminum Spray Bottle Mix half water/half witch hazel. Use distilled water. Shake well before each use.
To make a body spray 30-40 drops (total) of Essential Oil(s) per 4 oz.
or
80-100 drops (total) of Essential Oil(s) per 4 oz. for a room spray
Aromatherapy Bath – Soak away the blues.
Mix the following in a jar and dissolve in warm bath water right before getting in. Relax and soak for 20 minutes or so.
10 drops (total) Essential Oils you choose from above
1 tbsp Castile Soap
1 cup Epsom Salts
Roller Bottle- Roll away the blues on the go!
Carry with you and roll onto your pulse points as needed.
What you need:
Carrier oil of your choice
About 8 drops (total) of your favorite essential oils.
"Gray skies are gonna clear up Put on a happy face"- Tony Bennett 🙂