Description
100% Pure Therapeutic Allspice Essential Oil
Unadulterated (undiluted/unchanged)
Size: 15 ml
Botanical Name: Pimenta officinalis
Location: Jamaica
Extraction Process: Steam Distilled
Part of the Plant Used: Berry
Description: Allspice is a warm and spicy essential oil similar to clove and cinnamon. It is an ideal essential oil to diffuse during the winter and holiday months. When diluted with a carrier oil, Allspice can be applied to the abdomen to help with digestive issues; including flatulence, stomach ache, vomiting, indigestion and diarrhea. When diffused, allspice can be very grounding and help to ease feelings of depression.
Directions: Recommended to properly blend in a carrier oil prior to topical applications.
Cautions: Possible skin sensitivity. Keep out of reach of children. If pregnant or under a doctor's care, consult your physician.
GC/MS Lot#: Allspice-0103
GC/MS Lot#: Allspice-0102
GC/MS Lot#: Allspice-0101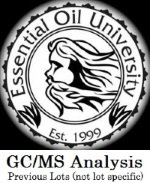 Disclaimer: These statements and products have not been evaluated by United States Food and Drug Administration and are not approved to diagnose, treat, cure, or prevent disease. The information given is not intended as a substitute for advice from your physician or other health care professional.