Description
100% Pure Therapeutic Amyris Essential Oil
Unadulterated (undiluted/unchanged)
Botanical Name: Amyris balsamifera
Location: Haiti
Extraction Process: Steam Distilled
Part of the Plant Used: Wood
Description: Amyris Essential Oil has a woody, sweet, balsamic, and slightly peppery aroma. It is often referred to as "Poor man's Sandalwood" or "West Indian Sandalwood" because it is used by many as a low-cost alternative to the very expensive true Sandalwood (Indian, Indonesian, Australian). This oil is perfect for warm, soft scented diffusing blends. The viscosity of this oil is very high, so if used in a diffuser it is recommended to be put in an essential oil blend to thin the oil.
Amyris Essential Oil Blends Well With: Frankincense, Cedarwood Himalayan, Lavender, Sweet Orange, Lavandin
How to use Amyris Essential Oil: Recommended to properly blend in a carrier oil prior to topical applications using safe dilution rates. Patch test before use in case of sensitivity. This Essential Oil has a thick viscosity that can make it difficult to pour out of the bottle. Place the bottle in a bowl of warm water for a few minutes before pouring or use a Pipette to retrieve the oil.
Allspice Chemical Family:
Sesquiterpenes, Sesquiterpenols
Product Brochure: Amyris Product Fact Sheet
References:
Amyris and Siam-wood Essential Oils: Insect Activity of Sesquiterpenes. Iowa State University, Gretchen E. Paluch Iowa State University, Junwei ZhuUnited States Department of Agriculture, Lyric Bartholomay Iowa State University, Joel R. CoatsIowa State University
Larvicidal activity of Amyris balsamifera, Daucus carota and Pogostemon cablin essential oils and their components against Culex pipiens pallens. Untied States Department of Agriculture National Agricultural Library, Park, Hye-Mi, Park, Il-Kwon, Journal of Asia-Pacific entomology 2012 v.15 no.4 pp. 631-634
Elemol and amyris oil repel the ticks Ixodes scapularis and Amblyomma americanum (Acari:Ixodidae) in laboratory bioassays. Untied States Department of Agriculture National Agricultural Library, Carroll, J. F, Paluch, G., Coats, J., Kramer, M.
Cautions: Possible skin sensitivity. Keep out of reach of children. If pregnant or under a doctor's care, consult your physician.
EOU GC/MS Lot#: Amyris-0110
EOU GC/MS Lot#: Amyris-0109
EOU GC/MS Lot#: Amyris-0108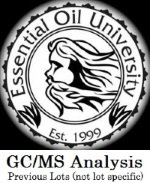 Disclaimer: These statements and products have not been evaluated by United States Food and Drug Administration and are not approved to diagnose, treat, cure, or prevent disease. The information given is not intended as a substitute for advice from your physician or other health care professional.