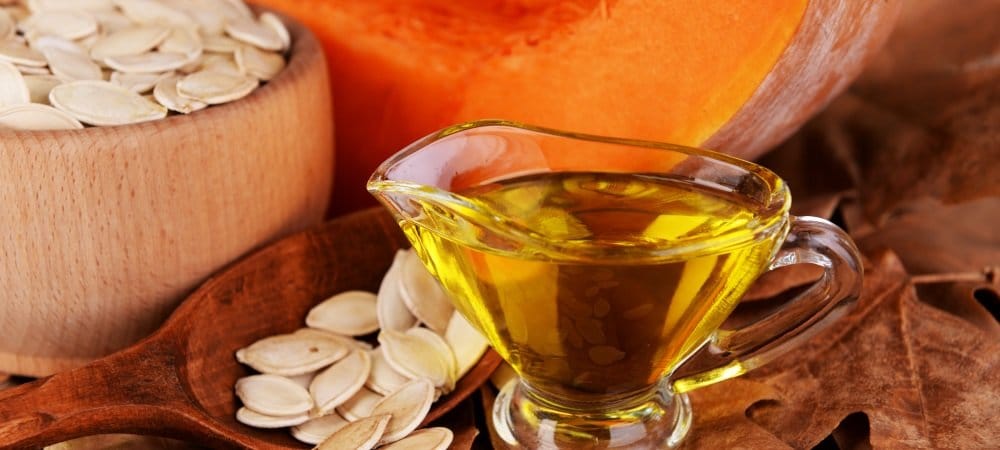 Many of us enjoy this nutritious snack, but did you know that Pumpkin Seed Oil also has many skin care benefits?
Packed with vitamins, minerals, antioxidants and of course, essential fatty acids, Pumpkin Seed Oil can help nourish your skin by hydrating, protecting and regenerating it. This makes it a wonderful oil for anti-aging formulas.
Skin and Hair Care Benefits
Protects against free radical damage: Rich in the potent antioxidant vitamin C and E, which fights damage cause by free radicals. #
Promotes Firmer Skin: Ingredients naturally found in pumpkin seeds such as vitamin C and Zinc help maintain healthy collagen and elastin.
Clearer Skin: contains zinc, vitamin C and selenium which can help reduce breakouts and make skin look healthier.
Deep Moisturizing: Feeds your skin nutrients such as essential fatty acids which will help moisturize and balance your skin.
Healthy Hair: May help with hair loss as a study indicated in the Evidence-Based Complementary and Alternative Medicine Journal in 2014. Average hair counts in the men who received pumpkin seed oil showed increases of 40%. Either way, the nutrients found in pumpkin seed oil make a great treatment for adding shine and moisture to the hair.
Anti-Inflammatory: Natural anti-inflammatorys in pumpkin seed soothe inflammation, helping to fade redness and calms other sensitive skin irritations such as rashes or eczema.
Balancing Pumpkin Facial Oil – Anti-aging, nourishing and moisturizing. Use as a moisturizer by adding a few drops to the palm of your hands and apply to face after cleansing.
In a 1 oz dropper bottle mix the following:
4 drops Geranium Essential Oil
4 drops Clary Sage Essential Oil
Rosemary , Lavender & Pumpkin Hair & Scalp Oil – Add shine and support healthy hair growth. You may use it daily by applying a few drops to the palms of your hand and applying through your hair, especially the ends and can also massage into scalp.
In a 1 oz dropper bottle mix the following:
3 drops Lavender Essential Oil
3 drops Rosemary Essential Oil
Pumpkin Spice Muscle and Joint Massage Oil- Soothe and warm sore muscles and joints with this healing blend.
In a 1 oz dropper bottle mix the following:
6 drops Frankincense Essential Oil
3 drops Clove Essential Oil
3 drops Juniper Essential Oil
3 drops Orange Essential Oil
Which came first: The pumpkin or the Pumpkin seed? 😛