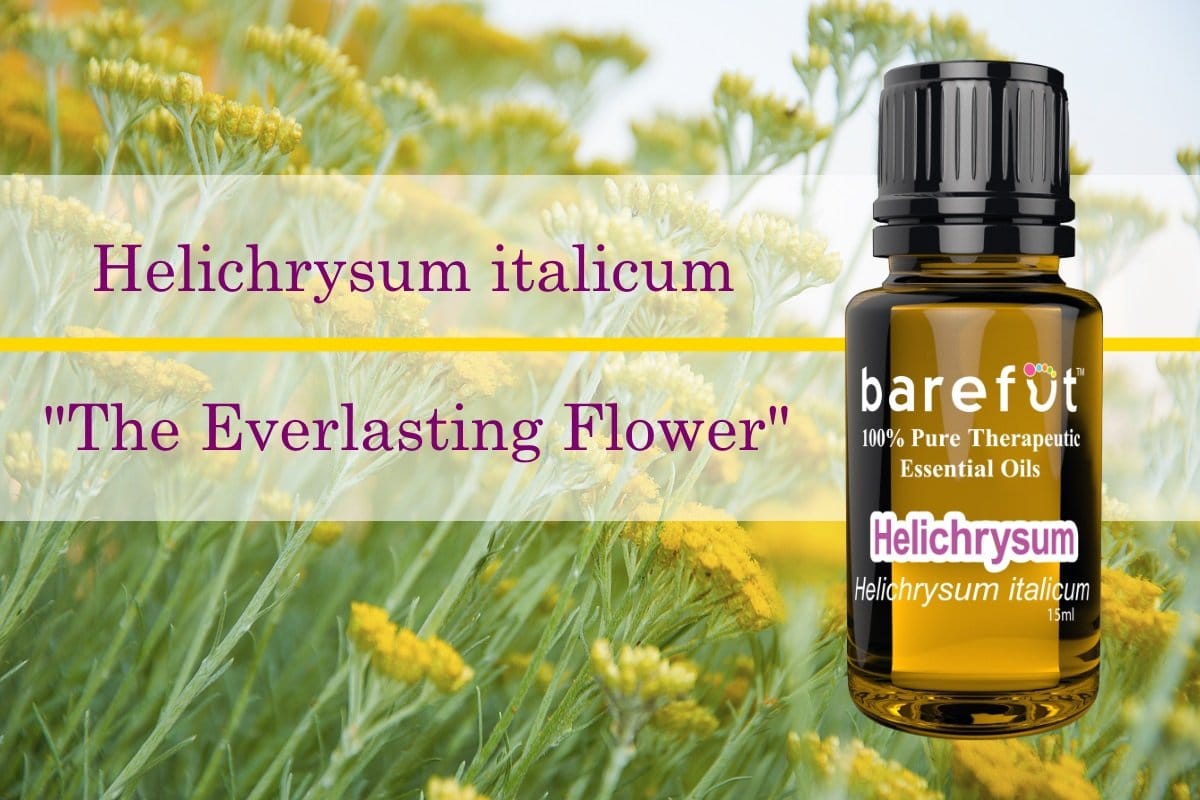 Immortalle… the strong aromatic herb grows in clusters of golden yellow ball shaped flowers and the leaves release a distinct aroma when crushed. It thrives in sunshine and in the most deprived soil, our Helichrysum is cultivated and distilled in France. Also known as Everlasting because its yellow color remains even when dried. Therapeutically, it is anti-inflammatory, analgesic, antiseptic, antispasmodic and antidepressant. It is an important oil for wound healing, to help with bruises and broken capillaries and vein health.*
Helichrysum enhances intuition. It is used in Aromatherapy to heal emotional and physical wounds. It is soul healing, helping us break through our deepest, most stuck negative emotions and helps to restore freedom and cultivate compassion. It is an aid for those trying to overcome adversity or emotional trauma (past and present), and experiencing anxiety, agitation and emotional burnout. Everlasting is beneficial for those who experience disconnection, perhaps from past experiences or emotional coldness or neglect. It is comforting for those who crave warmth and affection because perhaps they didn't receive it as a child. It is known to increase dream activity and promote awareness and creativity.
In traditional Chinese medicine it harmonizes and calms the Shen, or the spirit, and opens up the energy meridians. It invigorates blood circulation and relieves pain. It is Cooling, and helps overworked and overheated bodies.
Helichrysum italicum is a beautifying and restorative oil for the skin. It is favored by Aromatherapists for its incredible ability to help heal wounds and bruises.
Blends well with: basil, bay laurel, bergamont, Roman chamomile, clary sage, cypress, frankincense, geranium, grapefruit, juniper berry, lavender, lemon, marjoram, orange, palmarosa, ravensara, rosemary, tea tree, vetiver, ylang ylang.
Here are a few ways you can use Helichrysum italicum…
Massage oil for overworked muscles
1 tbsp carrier oil of your choice
4 drops Black pepper 
4 drops Helichrysum italicum
3 drops Chamomile Roman
3 drops Lavender
A beautifying face oil – Add a drop to 1/2 tsp rose infused carrier oil.
Add to your diffuser to calm the nerves and soothe the heart.
Happiness radiates like the fragrance from a flower and draws all good things towards you.– Maharishi Mahesh Yogi
*Aromatherapy is a Complimentary Alternative Medicine (CAM) and is not used by any form to replace medical care if necessary. Do not use essential oils internally or undiluted on the skin. Always test a small amount of the essential oil first for sensitivity or allergic reaction. The FDA has not evaluated the statements on this website. No claims are made as to any medicinal value of this oil or any products from Barefūt. The information presented here is for educational purposes of traditional uses and is not intended to diagnose, treat, cure, or prevent any disease. You are responsible for understanding the safe application of these products. If you have any questions, please call or email us for further information.