Description
100% Pure Therapeutic Turmeric Essential Oil
Unadulterated (undiluted/unchanged)
Size: 15 ml
Botanical Name: Curcuma longa
Location: India
Extraction Process: Steam Distilled
Part of the Plant Used: Rhizome
Description: Turmeric was referred to as "The Golden Goddess" by Ayurvedic healers in India over 5,000 years ago. In modern times, Turmeric has become a mainstream natural healing remedy. Turmeric has a wide range of health benefits, but some of its more common uses are to help with menstrual discomforts, joint pain, skin blemishes, skin irritations, hair health, and tension relief in the neck, head, and shoulders.
Learn recipes and more about Turmeric Essential Oil in our Blog Post
Directions: Add to your diffuser for aromatherapy benefits. Recommended to properly blend with a carrier oil prior to topical applications.
Cautions: Possible skin sensitivity. Keep out of reach of children. If pregnant or under a doctor's care, consult your physician.
EOU GC/MS Lot#: Turmeric-0108
GC/MS Lot#: Turmeric-0107
GC/MS Lot#: Turmeric-0106
GC/MS Lot#: Turmeric-0105
GC/MS Lot#: Turmeric-0104
GC/MS Lot#: Turmeric-0103
GC/MS Lot#: Turmeric-0102
GC/MS Lot#: Turmeric-0101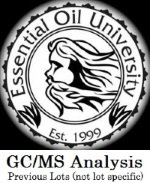 Disclaimer: These statements and products have not been evaluated by United States Food and Drug Administration and are not approved to diagnose, treat, cure, or prevent disease. The information given is not intended as a substitute for advice from your physician or other health care professional.