Description
100% Pure Therapeutic Cassia Essential Oil
Unadulterated (undiluted/unchanged)
Size: 15 ml | 5 ml
Botanical Name: Cinnamomum cassia
Location: China
Extraction Process: Steam Distilled
Description: Cassia is from the same family as cinnamon and shares its warm, spicy aroma; but with a bit more sweetness. In the Bible, cassia was one of the oils used by Moses to make the Holy Anointing Oil. While cassia has many health benefits, it is most known for its immune boosting support. It also promotes healthy digestion. Cassia improves blood circulation, brings warmth to the joints, and can give relief to rheumatism and arthritis. During the holidays, diffuse cassia with orange, ginger, nutmeg or clove.
Directions: Recommended to properly blend in a carrier oil prior to topical applications. Maximum dilution of 0.05% is recommended.
Cautions: Possible skin sensitivity. Keep out of reach of children. If pregnant or under a doctor's care, consult your physician. For external use only.
GC/MS Lot#: Cassia-0106
GC/MS Lot#: Cassia-0105
GC/MS Lot#: Cassia-0104
GC/MS Lot#: Cassia-0103
GC/MS Lot#: Cassia-0102
GC/MS Lot#: Cassia-0101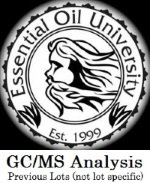 Disclaimer: These statements and products have not been evaluated by United States Food and Drug Administration and are not approved to diagnose, treat, cure, or prevent disease. The information given is not intended as a substitute for advice from your physician or other health care professional.