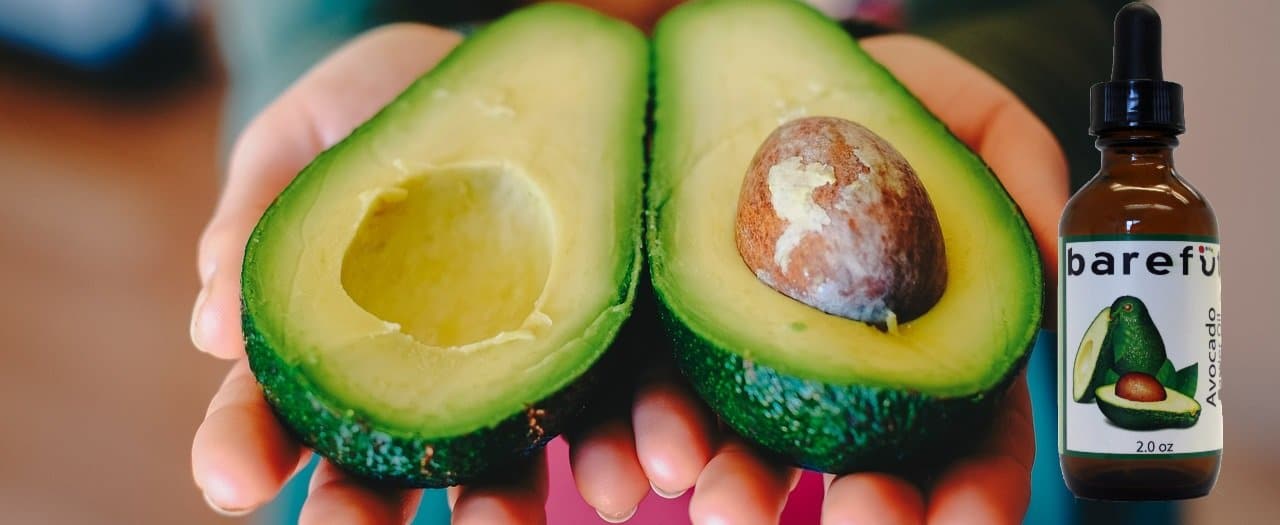 Feed your skin with the nourishing qualities of Avocado oil. This green gold is nutrient rich and one of the oils with the highest mineral content and most desired both for its use as a medicinal plant and its use in natural cosmetics.
The applications of avocado oil are perfect for body care as it is rich in essential fatty acids including oleic acid (naturally found in human sebum), as well as vitamins A, B1, B2, D, E, K and Beta carotene.
Like other vegetable oils it is also employed in beauty treatments, especially for the care of the skin. As this green elixir absorbs into the skin, it will make it dewy and resilient. This is why avocado oil is a common ingredient found in masks, creams and exfoliants. It is often blended with other carrier oils to enrich the formulas. It is green in color and a medium to heavy consistency and leaves and healthy sheen on the skin. In addition to providing the skin with moisture, the antioxidants found in avocado oil can help soothe sunburned skin. #
"When used in natural or in pharmaceutical formulations for topical use, avocado oil can promote increased collagen synthesis and decreased numbers of inflammatory cells during the wound-healing process and may thus be considered a new option for treating skin wounds." *
Benefits of Avocado Oil*
Skin regenerating and healing
Rejuvenating for tired, dull skin
Oil balancing- helps regulate skin sebum production
Deep Hydration- Deeply penetrates, replenishes, and moisturizes dry itchy skin.
Barrier Protection- protects your skin from the elements
Shows anti-inflammatory activity
Effective in relieving skin conditions such as eczema
Avo-Coco Hair Mask- This hair treatment helps to restore shine and moisture and repair weak strands when there is a lot of breakage.
Directions: Mix the following in a glass bowl. Apply to hair and scalp, as much as needed, depending on length and thickness of hair. Leave on for 20 minutes or overnight. Shampoo off as usual.
2 tbsp Avocado Carrier Oil
2 tbsp Virgin Coconut Oil
2 drops Lavender Essential oil
2 drops Rosemary Essential Oil
2 drops Clary Sage Essential Oil
Skin Reviver
Revitalize your skin with the nourishing combination I like to call my "liquid gold".
Directions: Blend the following in a 1 oz Amber Glass dropper bottle.
3 tsp Rose Petal Infused Oil
3 tsp Avocado Oil
3 tsp Jojoba Oil
4 drops Geranium Essential Oil
4 drops Frankincense Essential Oil
How do you like to use Avocado oil? ?
*These statements have not been evaluated by the Food and Drug Administration. This product is not intended to diagnose, treat, cure, or prevent any disease.